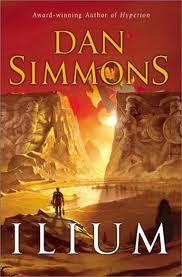 Plenty of science fiction writers get so dazzled by their own ideas that they sometimes forget about developing a decent plot. This is not the case with Dan Simmon's novel Ilium. It has plot coming out of its ears—in fact, most of the story is based on tried and true literary classics. While his overarching storyline is based on Homer's Iliad, Simmons throws in bits from Shakespeare, Proust, and Nabokov, creating a sci-fi twist on these literary icons that is both highly enjoyable and totally unique.

Every chapter of Ilium switches between three storylines. The first is the story of Professor Thomas Hockenberry, a Homerian scholar from the twenty-first century that has been resurrected by a species of "post-humans" living on Mars. These post-humans fondly believe that they are the Greek Gods of Homer's stories, although their divine powers actually come from their super-advanced nano- and quantum technologies. Hockenberry is given the job of watching over the events of the "new Trojan War" and reporting any deviances between the current battle and what Homer wrote in the Iliad, but his new existence gets thrown into a tailspin when Aphrodite commands him to kill Athena.

The second storyline features a Shakespeare-obsessed "Moravec"—a Jupiter-based bionic race descended from humans—named Mahnmut. Jupiter's government sends him (accompanied by his Proust-loving buddy Orphu) on a quest to put an end to "quantum tunneling" on Mars and deliver a mysterious package to Mount Olympos. Unfortunately for them, Zeus, tooling his chariot through space, shoots them down as soon as they enter Martian orbit, leading to one of the book's most exciting sequences.

The final and most entertaining storyline is about the original humans still alive on Earth. These humans have forgotten how to take care of themselves, relying completely on the caretaking efforts of a race of humanoid robots. One man, Harman, dreams of something different. Hoping to become more self-sufficient, he meets a woman known as the Wandering Jew. With her help, he embarks on a journey to find the post-humans and demand some answers on that pesky "meaning of life" question.

While I can't claim to have understood (or even caught) all of Dan Simmon's literary references, ignorance didn't put the slightest damper on my enjoyment. Embarking of Simmons's 700-plus-page-long mixture of classic literature with science fiction is a serious commitment—and that's before you consider the almost 900-page-long sequel—but it's well worth the time.

Posted by: Julia, Last edit by: Julianka
No new comments are allowed on this post.