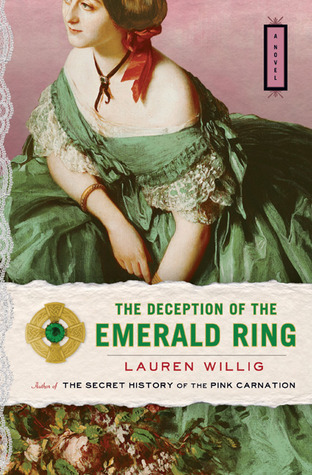 Apparently, Penguin has a tagline for author Lauren Willig: "Lawyer by day, romance novelist by night". The press release that they sent out with the latest installment in her swashbuckling Pink Carnation series is full of praise for her many accomplishments, and justifiably so: in addition to writing three books in as many years, Ms. Willig has finished both law school and a Harvard Ph.D in history, studied for the bar, and acquired a job in a law firm. But while she's obviously got a jaw-dropping work ethic, Ms. Willig's readers would be better served if she spent a bit more time on her writing. (Maybe she could give up sleeping…?) The Pink Carnation series is fun, but we'd only recommend buying the hardcover editions if you've got cash burning a hole in your pocket.

Willig's latest book is called The Deception of the Emerald Ring, and it continues the dual-storyline format featured in the first two books in the series. The book is nominally structured around the ongoing adventures of a modern-day grad student named Eloise Kelly, but the bulk of the story is devoted to her research subjects, a group of (fictional) 19th century spies following in the footsteps of the Scarlet Pimpernel.

The Eloise storyline was especially thin this time around. Eloise's romance with Colin (whose family papers are the focus of her research) is progressing at a snail's pace, which makes the chapter devoted to a disastrous blind date with a different guy all the more frustrating—if you're only going to spend a handful of pages per book on a romantic plotline, there's not much time for detours. The Regency-era plotline is more satisfying: Lord Geoffrey Pinchingdale is determined to elope with the beautiful Mary Alsworthy, but Mary's younger sister Letty is equally determined to stop the elopement and avert the inevitable scandal. Naturally, both of their plans go awry, and Letty and Geoffrey are forced into matrimony. Geoffrey (secretly the second-in-command of the notorious spy ring known as the "League of the Purple Gentian") goes directly from his wedding to investigate a brewing Irish rebellion, neglecting to explain matters to his new wife. She doesn't take this well, and hot spy action ensues.

Willig is a decent writer, and her novels seem solidly researched. The Deception of the Emerald Ring's foiled-elopement set-up is lifted directly from Georgette Heyer's Devil's Cub, and the rest of the book features a gleefully cheesy blend of swashbuckling derring-do and Regency romance. Unfortunately, when a book comes with a gushing press release, a twenty-two-dollar price tag, and truly awesome cover art, we here at Wordcandy expect something extraordinary, and The Deception of the Emerald Ring just reads like an above-average historical romance novel. It's a fun installment in an entertaining ongoing series, but we'd be a lot more enthusiastic about a thirteen-dollar paperback.

Posted by: Julia, Last edit by: Julianka
No new comments are allowed on this post.