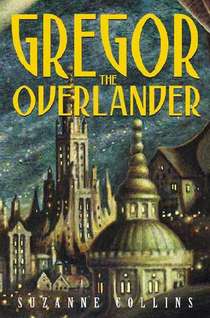 Pretty much the only things that went through my head while reading Suzanne Collins's novel
Gregor the Overlander
were
My God, this book is awesome!
and
There's a sequel, right?
. It's been a long time since I read a book with that kind of uncritical absorption, but it only took about half a chapter for me to become totally engrossed in Collins's world.
Gregor the Overlander
is Collins's first novel. Eleven-year-old Gregor's family has been barely scraping by after his father's mysterious disappearance two years earlier, so instead of going off to camp with his classmates, Gregor is spending the summer taking care of his two-year-old sister, Boots. One day, while Gregor is doing the laundry in their New York apartment building's basement, Boots tumbles through an open grate. Horrified, Gregor dives in after her, and both children fall into the Underland, a dark, bizarre world populated by giant rats, bats, cockroaches, and some
really
weird people.
Gregor's only goal is to get himself and Boots safely home, but the Underlanders have different ideas—they're convinced that Gregor's arrival was foretold in some creepy prophecy about their ongoing war with the rats, and they seem strangely unwilling to talk about his chances of ever returning to his life aboveground....
Gregor the Overlander
has a few problems. Gregor might very well be the most responsible, mature eleven-year-old boy in the history of fiction (the author would have been better off making him a few years older), and Collins has a loooong way to go before her prophecy-composing skills are at the level of, say,
Susan Cooper
's. But none of these flaws put a damper on my reading enjoyment—I charged through this story like a freight train.
There are three published sequels to
Gregor the Overlander: Gregor and the Prophecy of Bane, Gregor and the Curse of the Warmbloods,
and
Gregor and the Marks of Secret
. The fifth and final book in the series is due out in 2007. As the series progresses, the stories get darker, and the fourth book ends with a heartbreaking cliffhanger*. So if you're not into nail-biting, you might want to put off reading the fourth book in the series until the fifth book is released—if you can wait that long to find out what happens next. I certainly couldn't.
*If this series ends the way that
Phillip Pullman
's
His Dark Materials
trilogy did, I will cry bitter tears. Or possibly hunt the author down like a dog. Not sure which.
Posted by: Julia, Last edit by: Julianka
No new comments are allowed on this post.