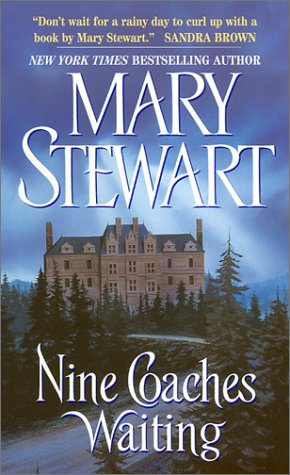 As you all know, we here at Wordcandy are strong believers in the power of cover art. If you want someone to take your book seriously--i.e., shell out big bucks for the hardback version--then you better give it some serious, grown-up, gender-neutral cover art. (Serious cover art is what enables an entertaining-but-flawed writer like, say, Arturo Perez-Reverte to get away with charging $25 for a book that was, while enjoyable, probably only worth $11.) Unfortunately, whoever holds the copyright for Mary Stewart's 1958 book
Nine Coaches Waiting
hasn't cottoned on to this fact yet, so her elegantly written suspense story is still languishing in the paperback section, each sale pulling in a mere $5.99.
But then,
Nine Coaches Waiting
has never really had the cover art it deserves. (My version is particularly ugly--a grimy off-white paperback with a picture of a woman's head in one corner. I've always wondered who she's supposed to be. She looks distinctly like a youthful Ivana Trump, and I can't think of anyone in the story who matches that description.) And my copy isn't even the worst of the lot--in the forty-odd years it has been in print,
Nine Coaches Waiting
has gone through a steady series of covers that range from cheesy and unattractive (see the eighties version) to blandly inoffensive (as shown above). No one has bothered to give this awesome story a cover that so much as
hints
at its action-packed blend of gothic romance and suspense.
The first chapter of
Nine Coaches Waiting
is tough going. It's very exposition-heavy, and the author is
really
fond of ellipses. But once you get through that first chapter, things pick up speed. The novel's protagonist is an intelligent young woman named Linda Martin, who has just arrived in France to accept a position as the governess to a nine-year-old French count, Philippe de Valmy. Philippe, like Linda, was orphaned at a young age, and they soon grow very fond of each other. With a well-paid job, an easy charge, and pleasant co-workers, there's only one shadow in Linda's life: Philippe's uncle and aunt. Léon and Héloise de Valmy, the chatelaines of Philippe's estate, seemed strangely insistent on hiring an English governess for their nephew, so Linda concealed her own French heritage in order to get the job. Originally, this seemed like a very minor deception, but as time passes it becomes more difficult to hide her knowledge of the language--and increasingly evident that her employers' motives for hiring a young woman without friends, family, or the ability to speak the language are more than a little suspect. Further complicating Linda's life is the presence of Raoul de Valmy, Léon's rakehell son, whose romantic attentions to her may or may not be honorable.
Nine Coaches Waiting
culminates with the best chase scene since
The Scarlet Pimpernel
, another classic suspense novel that features murky personal motivations, a nail-biting flight across the French countryside, and far too many ellipses. The difference, of course, is that in the past few years
The Scarlet Pimpernel
has gotten some really excellent cover art--the kind of cover art that clearly states, "This is a Very Important Book. Teach it in your classes, discuss it your book clubs, go ahead and pay full price for it." We can only hope that the next incarnation of
Nine Coaches Waiting
will follow in
The Scarlet Pimpernel's
footsteps and feature cover art worthy of such an enduringly entertaining book.
Posted by: Julia, Last edit by: Julianka
No new comments are allowed on this post.