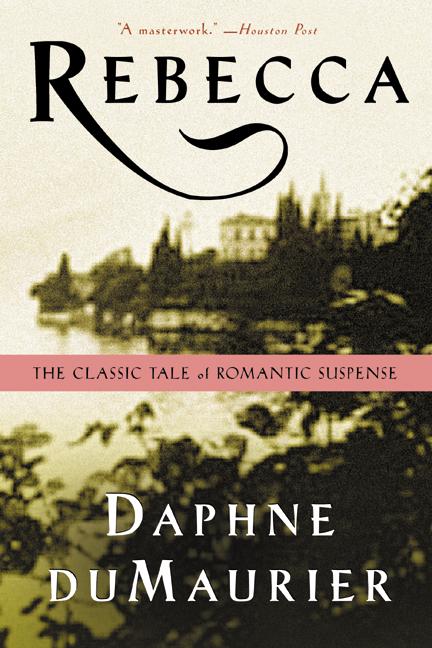 (Sorry--this is less a Book of the Week Review than it is book-related musings.) So... have you all been following the completely bizarre courtship of Tom Cruise and Katie Holmes? (And if not, you totally should be! May we suggest
www.pinkisthenewblog.com
as a particularly fine source for TomKat news?) Anyway, in a(nother) vaguely disturbing interview, Holmes is quoted as saying that starring in a movie with her diminutive fiancé: "Would be such an honor. Such an honor."
Well, Katie Holmes, we know you're busy trying on hideous wedding dresses and giving interviews about how amazing Tom is and brushing up on your Scientology right now, so we thought we'd save you some time and point out a fabulous filmmaking opportunity that would be
perfect
for you and Tom:
A remake of Daphne Du Maurier's classic suspense novel
Rebecca
!
Wouldn't that be awesome? Margaret Forster, Du Maurier's biographer, once said that Du Maurier was less interested in writing a conventional love story than she was in exploring the dynamic between a powerful man and a dependent woman, and something tells me that Holmes and Cruise could flesh out those roles pretty convincingly.
Okay, sure, Hitchcock already made his version, and I know that there are several TV versions floating around, but I think the world is ready for another big-screen adaptation, particularly one with such excellent casting! Holmes would play the nameless heroine--a naïve young girl, toiling away at a thankless career. Cruise would play Maxim de Winter, her much older, richer, and weirder love interest. When Maxim de Winter meets our innocent heroine, he sweeps her off her feet in a whirlwind courtship that's just a little too Cinderella-esque to be believed. She's nauseatingly grateful for the attention, but once they're safely married, Maxim de Winter's dark secrets begin to emerge....
Well, I don't know about the rest of you, but
I
would pay good money to see it.
Posted by: Julia, Last edit by: Julianka
No new comments are allowed on this post.