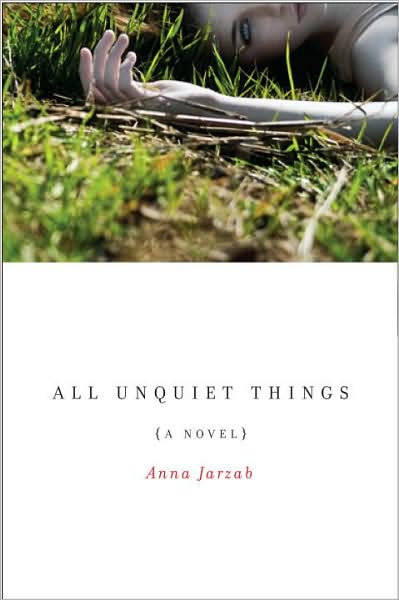 Anna Jarzab's intriguing debut novel All Unquiet Things centers around Neily and Audrey, two wealthy California teens haunted by the death of sixteen-year-old Carly—the beautiful, damaged girl who was both Audrey's cousin and Neily's former girlfriend. Audrey's ne're-do-well father was convicted of her murder, but the teens' investigation raises some serious doubts about his culpability... and the disturbing suggestion that Carly's real killer is still at large.

Fans of Veronica Mars are going to love this book: both stories feature big-money California settings and center around determined and fiercely intelligent young adults mourning the loss of a troubled but charismatic girl. Unfortunately, All Unquiet Things would have benefited from the literary equivalent of a full television season—another hundred pages or so would have allowed the many dramatic revelations at the end of the story room to breathe. (Imagine trying to condense the complete first season of Veronica Mars into a two-hour movie. No matter how well-written or -acted it might have been, that would have been a lot of trauma to squeeze into a hundred and twenty minutes.) All Unquiet Things was impressive, and Jarzab is obviously an author to watch, but here's hoping that her next novel is long enough to truly showcase her talent*.

*Oh, and that it doesn't take as long to write as this one did—we definitely don't want to wait six and a half years to read Ms. Jarzab's second book!

[Review copy provided by the publisher.]
No new comments are allowed on this post.