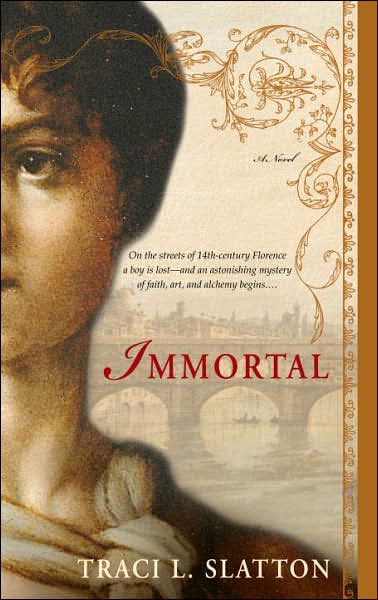 [Note: this review contains a semi-spoiler, so procede with caution!]
While Anne Rice fans breathlessly await that
last Lestat book
, they would be well advised to check out Traci L. Slatton's debut novel
Immortal
.
Immortal
is the story of Luca Bastardo, a homeless child living in 14th century Florence. Luca has no memory of his life before age nine, but he's a quick-witted, exceptionally beautiful boy, with a double-edged gift: he ages at an impossibly slow rate. Luca's centuries-long life allows him to witness both the cruelty and the beauty of the Renaissance—he survives the Black Death, imprisonment in a brothel, the Inquisition, and the stake-happy religious fervor of his fellow Florentines; he befriends everyone from Leonardo da Vinci to the Medici family; and he finds—and loses—a great love.
Slatton's novel is not the type of book we generally recommend. For every page dedicated to happiness, intellectual curiosity, and beauty, there's two more devoted to suffering and brutality*. Still,
Immortal
is impressive, particularly coming from a first-time author—Slatton's style is elegant and briskly paced, and her ageless hero is likable and intelligent, with none of the self-indulgent whininess of Rice's vampires. We can't say we'll be re-reading
Immortal
any time soon (we seldom re-visit books that open with the hero's impending execution, no matter how well-written they are), but we'll be keeping an interested eye out for Slatton's next book.
*
Not
a Wordcandy-approved ratio.
No new comments are allowed on this post.