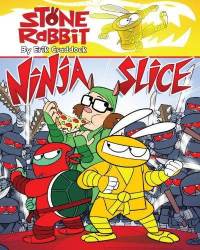 Eric Craddock's Stone Rabbit #5: Ninja Slice is a boisterous, colorful read aimed squarely at reluctant male readers ages 7-10. The plot (what little there is of it) is simple: when a new pizza shop opens in town, Grandpa Tortoise's Home-Style Pizza Restaurant can't compete. Stone Rabbit and his friends are determined to save Grandpa's business, but how can they win against an army of pizza-making ninjas?

The bright colors and cheerfully ridiculous fight scenes in Ninja Slice will appeal to small boys, while the triple threat of pizza, ninjas, and an irritable bunny protagonist who shouts "Crudmonkeys!" in moments of stress should speak to middle readers. Craddock's series doesn't pretend to be great literature, but it's a solid pick for little kids in need of a burst of quick silly fun.

[Review based on a publisher-provided copy.]
No new comments are allowed on this post.