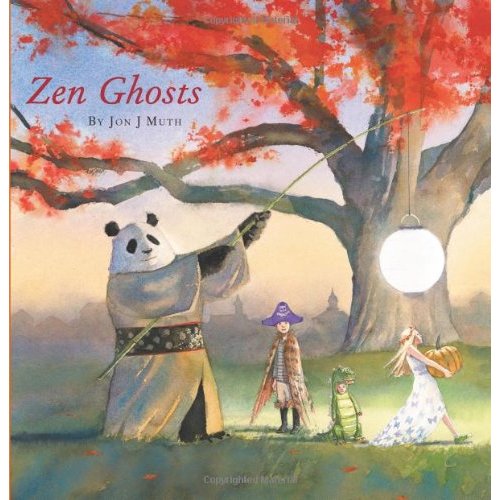 Unlike the book we
featured yesterday
, Jon J. Muth's
Zen Ghosts
is an example of kid-friendly surrealism done absolutely right. It's short on words, but overflows with thought-provoking storytelling and gorgeous, glowing art.
Zen Ghosts
follows 2005's Caldecott Honor Book
Zen Shorts
and 2007's
Zen Ties
. All three books feature a Zen Buddhist panda named Stillwater and his trio of young human friends: siblings Karl, Michael, and Addy. In
Zen Ghosts
, Stillwater rounds out an evening of Halloween trick-or-treating by telling the children a ghost story based on a Zen koan (one of the questions Zen practitioners contemplate in their search for enlightenment) called
Senjo and Her Soul are Separated
.
I always try to run the children's titles we review past age-appropriate readers, so I read
Zen Ghosts
to a group of first graders. I was interested to note that while the kids seemed to love the book (and no one had any problem accepting a story that involved a giant talking panda!), quite a few of them were upset by the idea of the koan—a question
designed
to have no concrete answer. Muth provides a helpful author's note at the end of book about Zen Buddhism, koans in general, and the history of the
Senjo
story in particular, but this is still the kind of story that parents should discuss with their children. Happily, nothing about that discussion should be a hardship, as Muth's book has something to offer readers of all ages.
[
Review based on a publisher-provided copy.
]
No new comments are allowed on this post.