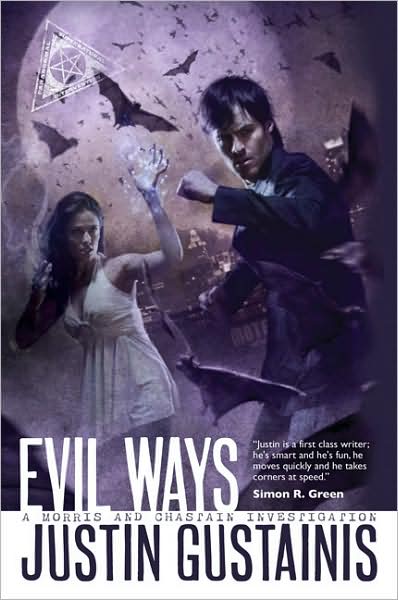 I really enjoyed Black Magic Woman, the first book in Justin Gustainis's Morris and Chastain Investigations series. I liked his just-released sequel, Evil Ways, too... but with considerably more reservations.

After a brief (yet awesome!) opening sequence set during the looting of the Iraqi National Museum, Evil Ways returns to the primary characters of Black Magic Woman: supernatural investigator Quincey Morris, witch Libby Chastain, and FBI agent Dale Fenton. Morris, Chastain, and Fenton—along with Fenton's new partner, Special Agent Colleen O'Donnell—are attempting to use their unique combination of skills to solve a series of gruesome murders. Their separate investigations lead them to an ailing billionaire, his mysterious and powerful employee, and a terrifying ritual planned for Walpurgis Night.

There is a lot of violence in this book—and not, unfortunately, the fun, gory, monster-bashing kind. Most of the brutality in Evil Ways is endured by the book's female characters, and a disturbing amount of it is sexual in nature. This, combined with the book's lopsided character development (we don't discover much about Quincey, the ostensible main character, but we sure do learn a lot about the various female characters' sexual pasts), made me feel like I simply wasn't part of the novel's target demographic. It was an unwelcoming sensation, and one I hope the author adjusts in future books. Remember, girls like monster books, too, Mr. Gustainis! But, uh, maybe without stomach-churning scenes like the one you stuck in chapter 20...

...which isn't to say I'm giving up on this series. Gustainis's writing is smart, fast-paced and incredibly readable, and the sneak peak included at the end of Evil Ways has already whet my appetite for his next installment (Sympathy For the Devil). However, I am hoping the next book features a more careful balance of male and female suffering, because I suspect the biggest thing I will take away from Evil Ways is the memory of the dread chapter 20—and while I'm sure that scene added something to this series' overall storyline, I don't think that was the impression the author was aiming for.
No new comments are allowed on this post.