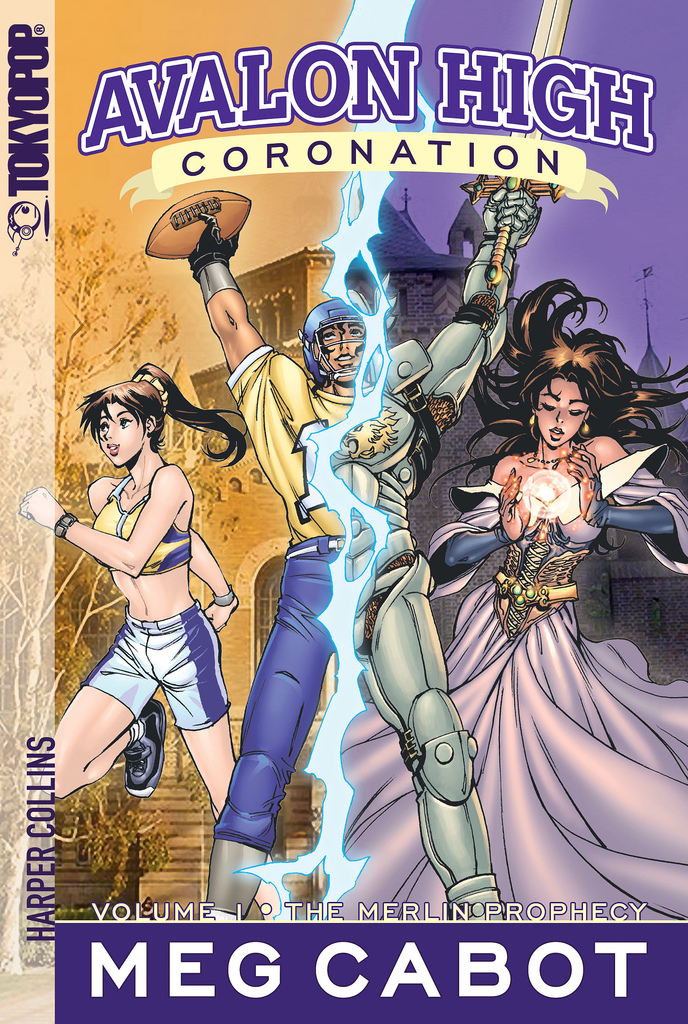 Meg Cabot's books are pure escapist fun. Shōjo manga—well, some of it—is also pure escapist fun. So combining the two should create some kind of
super
pure escapist fun, right? TOKYOPOP hopes so: they've just released the first installment of
Avalon High: Coronation
, a manga-style sequel to Cabot's 2005 novel
Avalon High
. Unfortunately, presenting Cabot's story in a three-part manga format does no favors for anybody, because
Coronation
is seriously weak.
The first quarter of
Coronation
is spent recapping the events of
Avalon High
. Readers are re-introduced to Ellie, Will, Jen, and Lance, a group of high school students that
might
be the reincarnation of several legendary Arthurian figures. As the manga opens, Will (King Arthur) is estranged from his parents and living with his new girlfriend Ellie (the Lady of the Lake). He's forgiven his ex-girlfriend Jennifer (Guinevere) for cheating on him with his best friend Lance (Lancelot), and Jen and Lance are now dating. Will's evil half-brother, Marco (Mordred), has been shipped off to a mental hospital and the local math teacher, Mr. Morton (Merlin), is keeping a paranoid eye out for any supernatural craziness on the horizon.
The middle section features new material, although it's clearly an installment effort rather than a complete story. New characters are introduced, including Marco's evil cheerleader ex. Conflict is set up. (Will Ellie and Will choose to save the world, even if it means missing out on prom?! We're going to go out on a limb here and predict that somehow they'll manage to fit both world saving
and
prom into one action-packed night.) Unfortunately, nothing gets resolved, so hooked readers will have to shell out the cash for another two installments.
And then, adding insult to injury, the final quarter of the book is devoted to advertisements for Meg Cabot's other stuff! Not only is this hardcore tacky, but it proves how much better Cabot's stories work as conventional novels. The lion's share of Cabot's charm comes from her heroines' unique personalities, and
Coronation
's focus on action rather than character development seriously limits her appeal.
In addition to Cabot's tissue paper-thin plot, Jinky Coronado's artwork leaves something to be desired.
Coronation
looks like a generic male-oriented comic book, with loads of long-haired, large-breasted girls bouncing around. (Click
here
for a sample.) Coronado is a competent artist, but couldn't they find someone with a less Barbie-esque style?
TOKYOPOP seems to realize that
Coronation
is a pretty slight effort, as they're only charging $7.99 for it, rather than their usual $9.99. Unfortunately, $7.99 still rings pretty high on the rip-off-o-meter. A story this flimsy shouldn't cost more than five bucks, tops, so we suggest either checking out from the library, reading it at the bookstore, or hoping that TOKYOPOP eventually releases a fifteen-dollar "collected" version of the story and buying the whole thing at once.
Posted by: Julia, Last edit by: Julianka
No new comments are allowed on this post.